About 50 politicians from the canton Vaud and scientists from UNIL and EPFL met on Thursday, October 6 at the Lausanne Palace. The aim was to establish a direct dialogue and strenghten their collaboration in order to provide common answers to the climate and biodiversity crisis.  This meeting was organized by the Center for Climate Impact and Action (CLIMACT - UNIL/EPFL), under the direction of its academic co-director, Prof. Julia Steinberger, in collaboration with the UNIL Competence Centre in Sustainability (CCD).
On Thursday, October 6, between 5:00 and 9:00 pm, politicians from the canton Vaud from all political levels and parties, scientists from UNIL and EPFL as well as climate professionals were present at this first "Meeting on climate and biodiversity".
"Through this initiative, we hope that we will help create solid and sustainable bridges, that will allow all of us to personally contribute to providing answers to one of the greatest challenges of our time," said Nicolas Tétreault, Executive Director of CLIMACT in his introduction. 
In their respective presentations, the Rector of the University of Lausanne, Frédéric Herman, and the President of EPFL, Martin Vetterli, also agreed that the scientific community must try improve its communication in order to better serve society.
On the agenda: a diagnosis of the existing collaboration, two roundtables and a standing dinner to encourage individual exchange.
Collaboration between science and politics: needs, obstacles, blockages
"Scientists and politicians have an urgent need to communicate and collaborate, our ways of working are so different that it leads to misunderstanding and sometimes even mistrust. We need to get to know each other, to build mutual trust. Our future depends on it and our fellow citizens are counting on us," said Julia Steinberger, professor of ecological economics.
Raphaël Mahaim, National Councillor (Les Vert-e-s) and lawyer, deconstructed the myth of the "homo politicus", an often thought rational and predictable being: "Scientists always imagine that if politicians were better informed, they would make different decisions, but these are not necessarily the result of bad information. Moreover, there is a question of temporality. The time of the politician is not the time of the scientist. To better understand each other and collaborate, we must therefore overcome certain prejudices and get to know each other.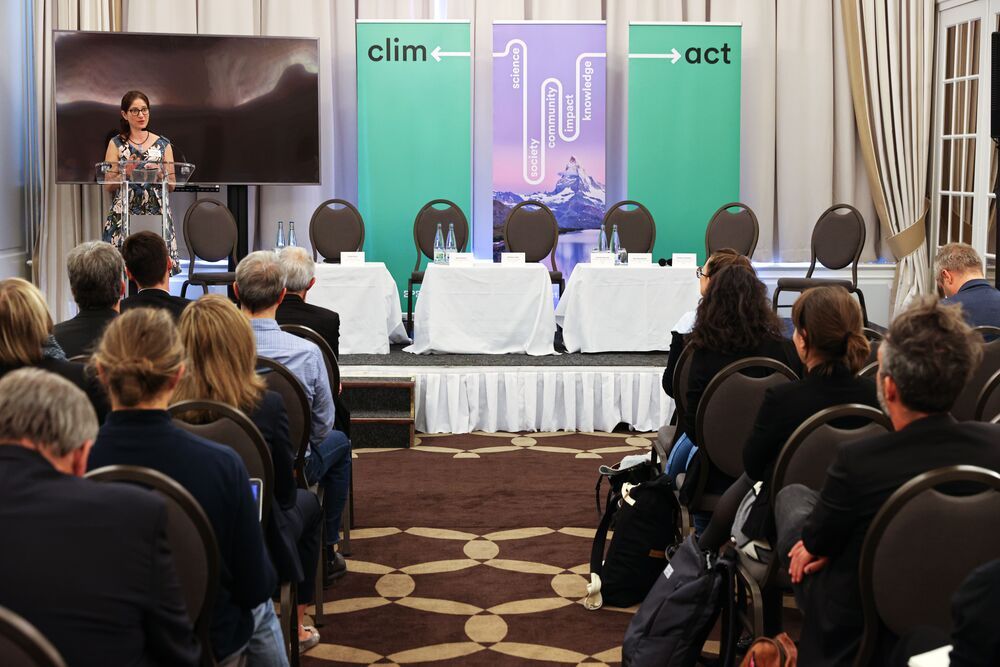 Julia Steinberger, Professor, UNIL
What room for scientific facts in climate policy ?
This was the question addressed in the first roundtable moderated by Augustin Fragnière, Deputy Director of the CCD.  "For us politicians, practical tools adapted to the field are more useful than theoretical studies that are sometimes complex to use for an outsider," observed the syndic (UDC) Philippe Jobin, who is also responsible for the climate energy plan of the municipality of Echichens.
"As experts in the law field, we can help measure the extent of obligations, better understand what certain treaties signed by Switzerland entail in concrete terms and identify the political room for maneuver as well as the legal tools available," added the associate professor of constitutional law Véronique Boillet.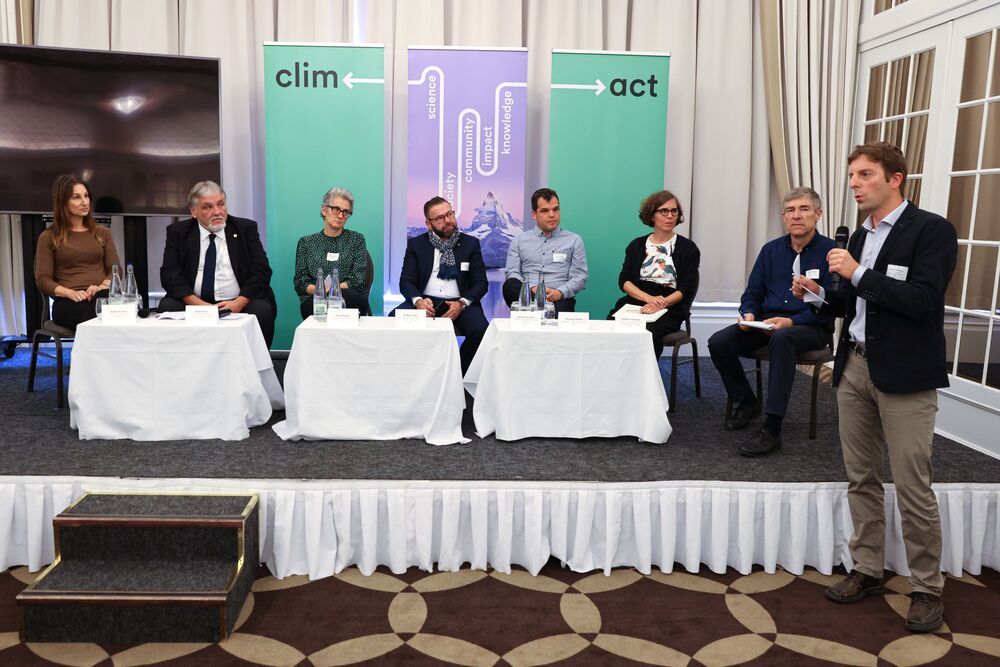 From left to right: Adèle Thorens, Conseillère aux États (Les Vert·e·s); Daniel Ruch, Conseiller national (PLR), Syndic de Corcelles-le-Jorat; Sonya Butera, Députée au Grand-Conseil (PS); Philippe Jobin, Député au Grand-Conseil (UDC), Syndic d'Échichens; Samuel Jaccard, Professeur, UNIL; Véronique Boillet, Professeure, UNIL; Philippe Thalmann, Professeur, EPFL; Augustin Fragnière, Directeur adjoint du Centre de compétences en durabilité (CCD) et modérateur de la soirée.
What concrete solutions for mutually beneficial future collaborations ?
This was the subject of the second roundtable discussion. "We are overwhelmed with information. What we need most is information that is formatted for our use and that it comes at the right time, in the right place and to the right person, otherwise it is a waste of time", explained Adèle Thorens, State Councillor (Les Vert-e-s). "The scientific and academic world tends to think that the UDC has no ecological conscience and is afraid to come to us. Interpersonal relations are essential. I encourage scientists to contact us directly," added Céline Baux, Member of the Grand Council (UDC).
On the scientific side, Antoine Guisan, Professor in spatial ecology (UNIL) stressed the importance of translating scientific information for political decision making: "We should manage to get to a very reactive system that offers the possibility for politicians to quickly obtain a simple answer to a complex question.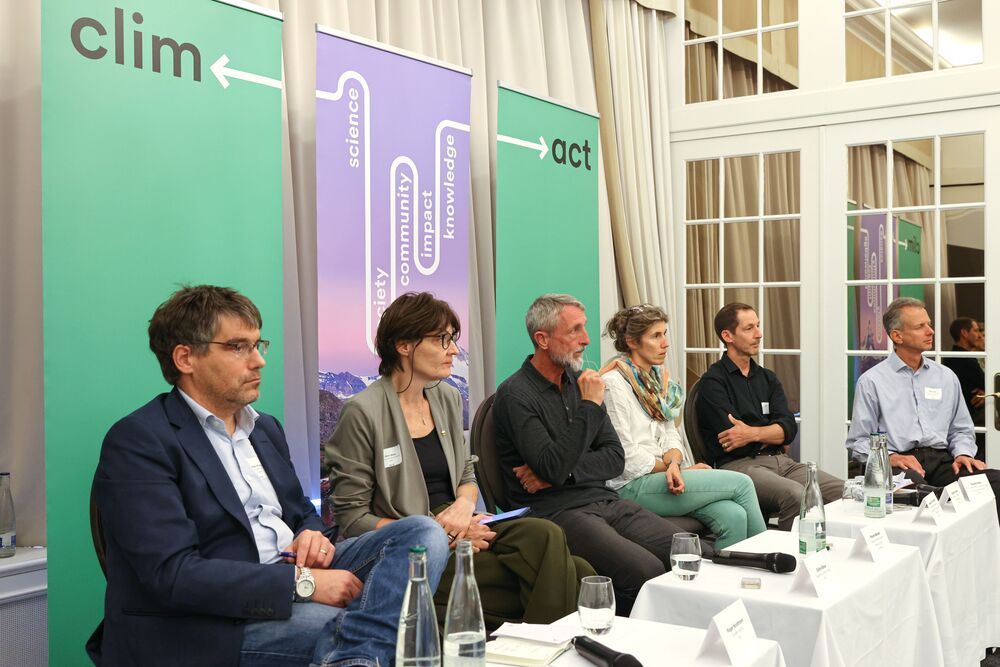 From left to right: Roger Nordmann, Conseiller national (PS); Céline Baux, Députée au Grand-Conseil (UDC); Pierre Wahlen, Député au Grand-Conseil (Les Vert·e·s), Municipal - Nyon; Valérie D'Acremont, Professeure, Unisanté; Antoine Guisan, Professeur, UNIL; Sacha Nick, Researcher, EPFL.
Séverine Evéquoz, President of the Grand-Conseil added: "The Parliament is a public house, everyone is welcome. We aspire to open our doors to the scientific community, for occasional or more regular exchanges."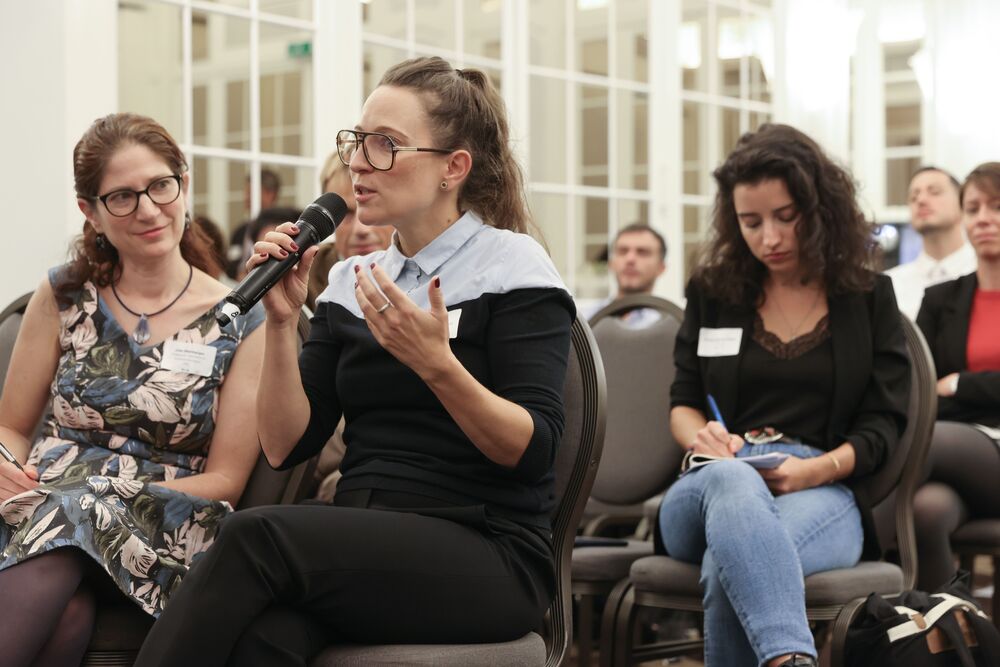 Séverine Evéquoz, President of the Grand-Conseil
An exchange rich in mutual learning
A multitude of other points were debated: the need for more prescriptive science adapted to the field, greater interdisciplinarity within the task forces, citizens' assemblies, social acceptability, considering the biases of one another, the impact of environmental actions, divergent perceptions of the notion of "urgency", a potential knowledge lobby, dogmatism, the role of the media, the importance of narrative and framing, or the contribution of social psychology.

About CLIMACT:
Discover our upcoming events, watch our CLIMACT Seminar Series on Youtube, read our articles and follow us on Twitter (@ClimactSuisse et @ClimactSwiss) and Linkedin.
About the CCD (UNIL Competence Centre in Sustainability:
The mission of the CCD is to stimulate interdisciplinary research on sustainability issues and the integration of this theme into university teaching. It also aims to develop close relationships between university research and other sectors of society on issues of ecological and social transition.